Cincinnatti-September 4th, 2019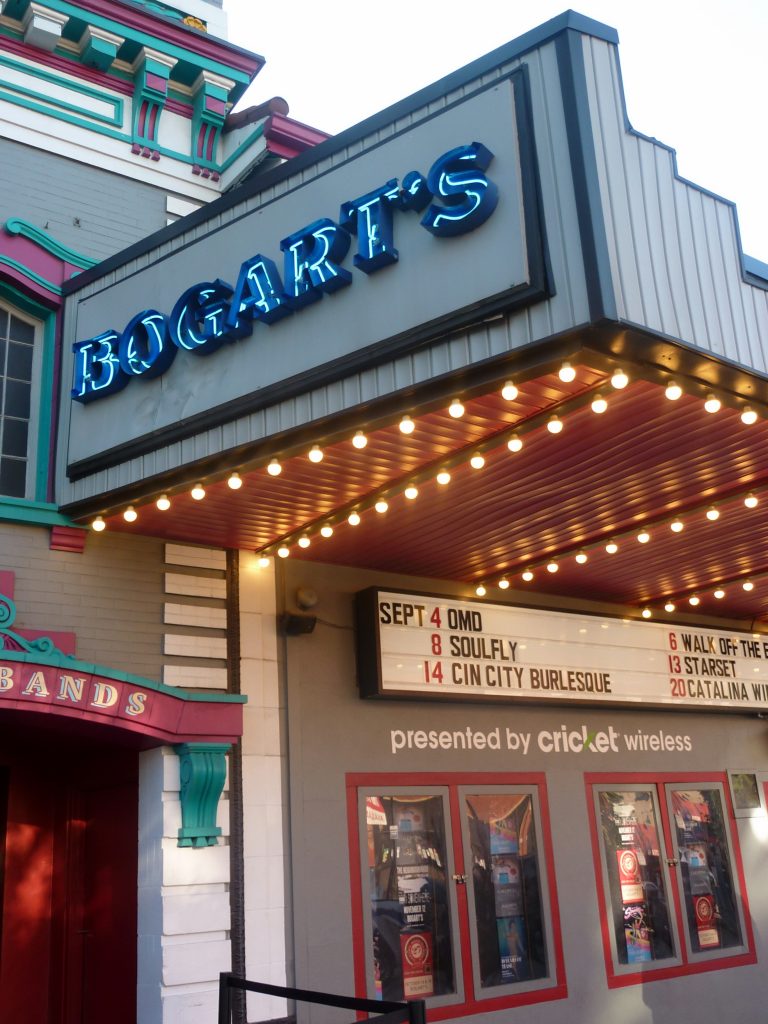 Well, it's always sad for me to say goodbye to my sister tho I was glad I was having to get up early enough to be able to do it before she headed to work as she leaves early too. 🙁 Another day on the road ahead for the girls and I but not as long of one this time so no biggie. However, on my way, I got a call from Marilyn saying she was feeling ill and having to just stay in Nashvile and fly home the next day there. So sad! 🙁 But Maria and I trekked on and had another nice visit and drive minus any real shattering views LOL. Tho that being said, we really liked some of the architecture and bridges as we came into Cincinnatti itself. The Ohio river splits the states of Ohio and Kentucky right as we came in so it was a case of 'we're in Kentucky…seconds later we're in Ohio'. 😀
We didn't really know what to expect in terms of crowd or numbers but when we arrived at the venue, I dropped Maria off to get in the queue and was lucky enough to find a FREE parking spot. 😀 Christine was in Fast Track so was sweet and saved us a spot on the rail. 🙂 Oddly enough, Nashville had a bigger barrier than Charlotte but tonight's was quite large. Not sure why as the venue wasn't huge and the stage wasn't super high but ah well LOL.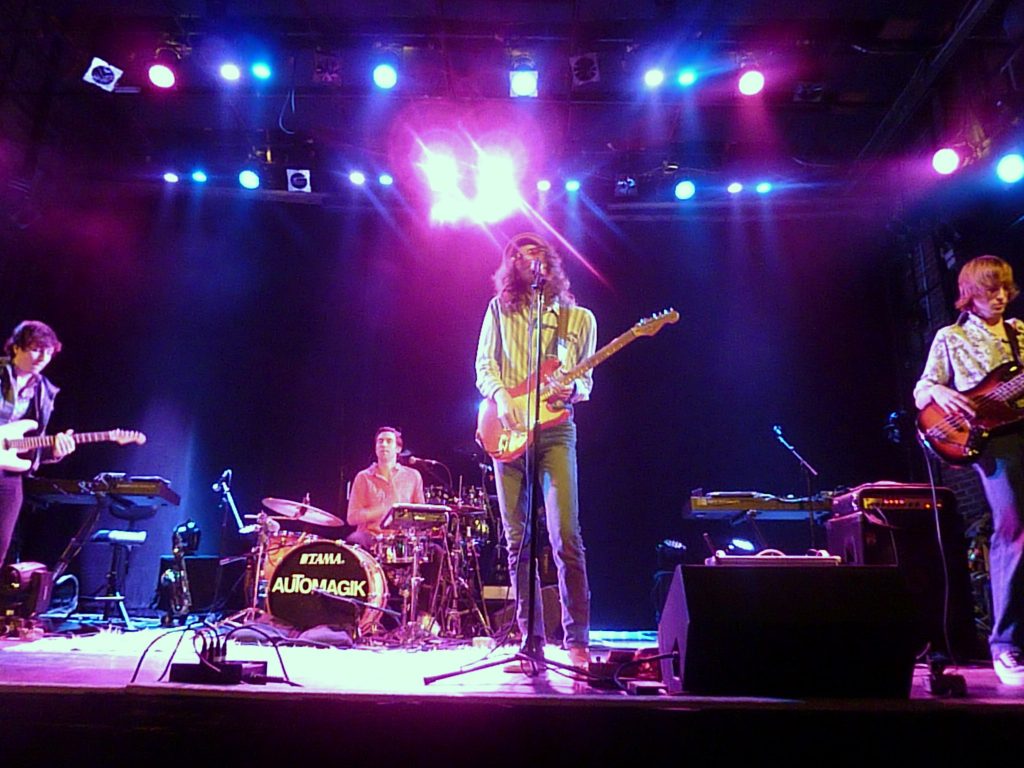 So I had heard from the lady in line behind me who's nephew was part of the opening band that they were "psychedelic funk" and yes, that's pretty accurate. The bassist and ESPECIALLY the lead singer looked like they stepped off the set of "That 70s Show" so I wasn't quite sure what to expect. But personally I thought they were fun. 🙂 High energy, funky fun music. Perfect for a final gig to set a light, happy mood. Funny bit tho….so about 3 songs in, the lead singer wanted some dancing participation and split the crowd in 2. He then said for everyone to take 1 step to the side. My immediate thoughts were "um…NO, I'm not losing my spot" and a girl behind me spoke what I was thinking with her "um, NO". 😀 😀 So the floor split….up to like the first 3 rows. WE didn't move. But 2 different people did their best moves down the aisle up to us so it was cute. 🙂
Well, the crowd was quite responsive to Automagic but originally I wondered if it was because they were a loved local band. However, when the lights went down and we heard the intro musical lude, the crowd reacted well then too so…. 😉 The guys came out to a roar of cheers and once Isotype was done, Mr. M. said "We haven't played Cincinnati for a long time….guess we owe you a great gig then." 😀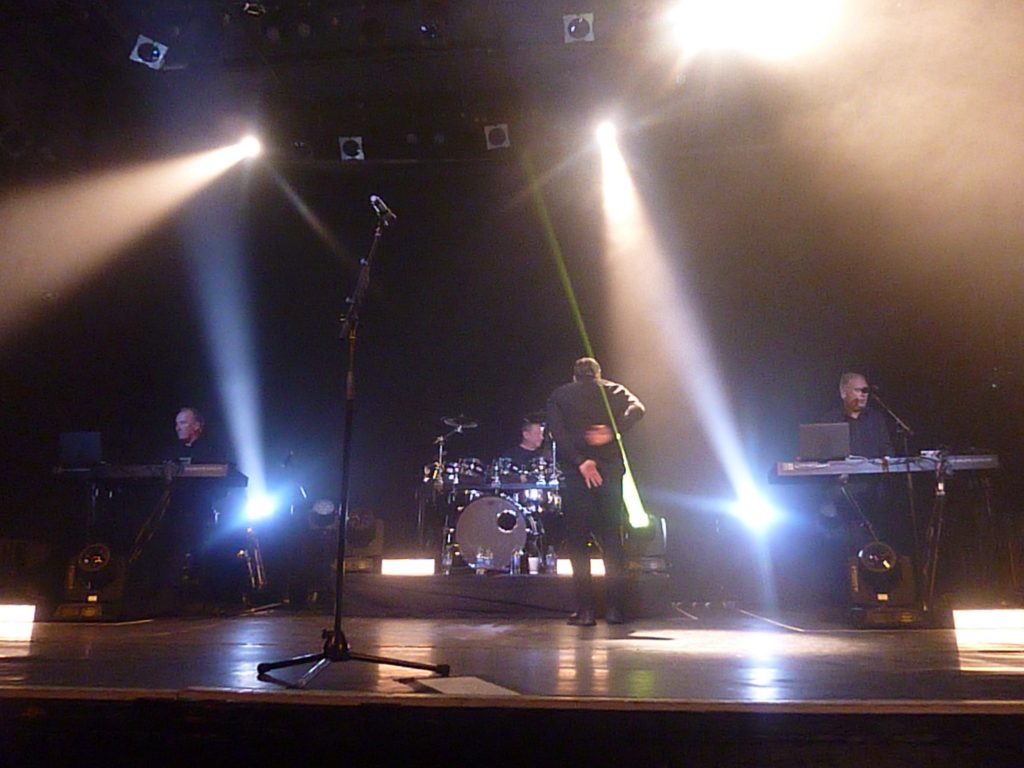 Maria and I had fun doing the do da do da do da doooo to Messages again (for some reason I kept thinking we sounded like the muppet Dodo birds. I THINK they're Muppets LOL) and she even did a few "yes, Yes, YES" with me during Tesla Girls. The crowd wasn't letting up either and both Mr. M. and Mr. H. seemed healthier so that was great! 🙂 When HoM 1 started, I was happy to see a guy behind me and a few other random people bounce with me. Something I forgot to mention in the other blogs…a new thing being done at the start of the middle part was Mr. M., Mr. C. and early on I think Mr. H. putting their hands in the air and snapping to the beat. I tried to get a pic of it tho not the best LOL.
When it came time for Mr. H. to come down and do FLaD, Mr. M. came to the edge of the stage and said "Why is there The Grand Canyon for a barrier tonight? Do you people in Cincinnati have a reputation?" Maria and I laughed as we along with Christine had wondered too and the crowd cheered loudly. Mr. M. then turned to Mr. H. and said "Well Paul, I think it's safe for you to come down here." Mr. H. seemed to really enjoy being up by us and the crowd loved him. Cheers in random spots through out the song and when it was over, massive cheers! Mr. M. gave Mr. H. the bows before coming back front and Mr. H. going back by the keys but the crowd kept going. Mr. H. gave a final, bashful thank you and Mr. M. said "WELL…" as the crowd kept cheering. He then jokingly took a stance and said "I'll just play a big hit TOO then." Followed by "If you don't know THIS one, we may as well go home." But of course everyone knew IYL. 😉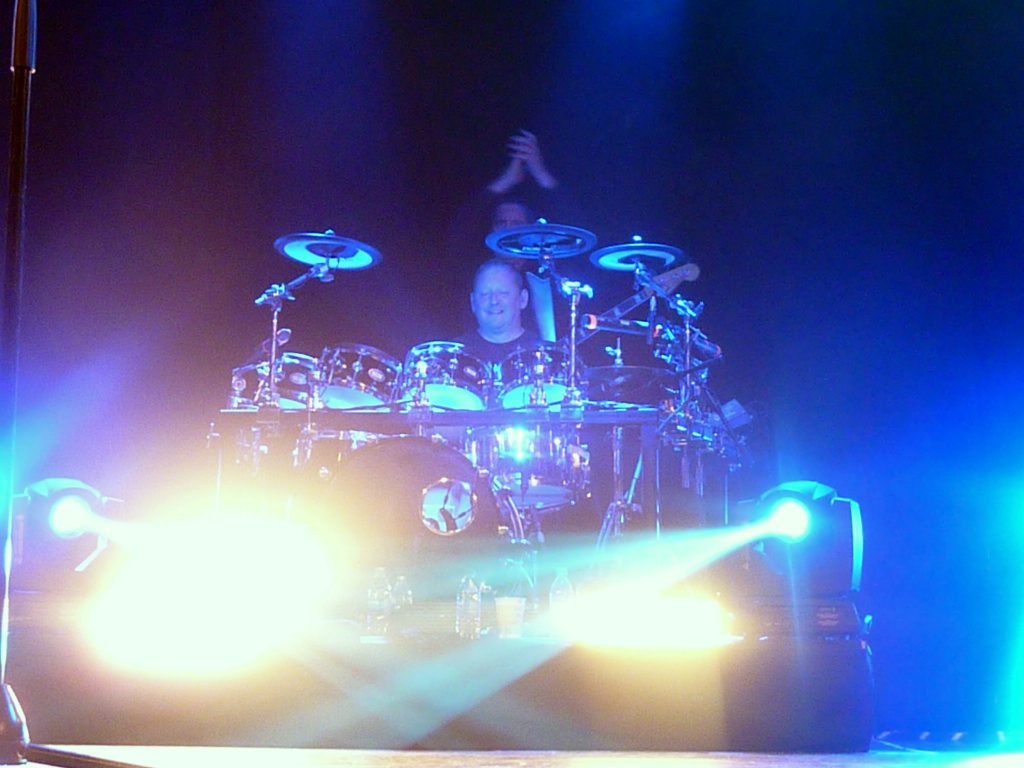 As soon as they started She's Leaving, there was a guy next to Christine who looked like maybe mid/late teens with his mom (I'm assuming) and this whole time he was bopping around wildly, loving it all. Well, he heard the first few notes and was like "Oh YEAH!!!!!" and sang along to it loudly. So cute! 🙂 Stuart was the recipient of not only a karate chop type massage to the beat of his drums in the middle section of Souviner, but also a head finger massage LOL.
I had no doubt that JoA/MoO would go down well since literally every OTHER song had and, yup! At this point, the guys had such massive smiles on their faces, all 4 of them! Stuart and Mr. H. were exchanging looks and smiles like "wow, listen to that" and Mr. C. was grinning from ear to ear. Mr. M. laughed and joked about how "scary" his dancing is "but I'm 60 and it's not going to change". 😀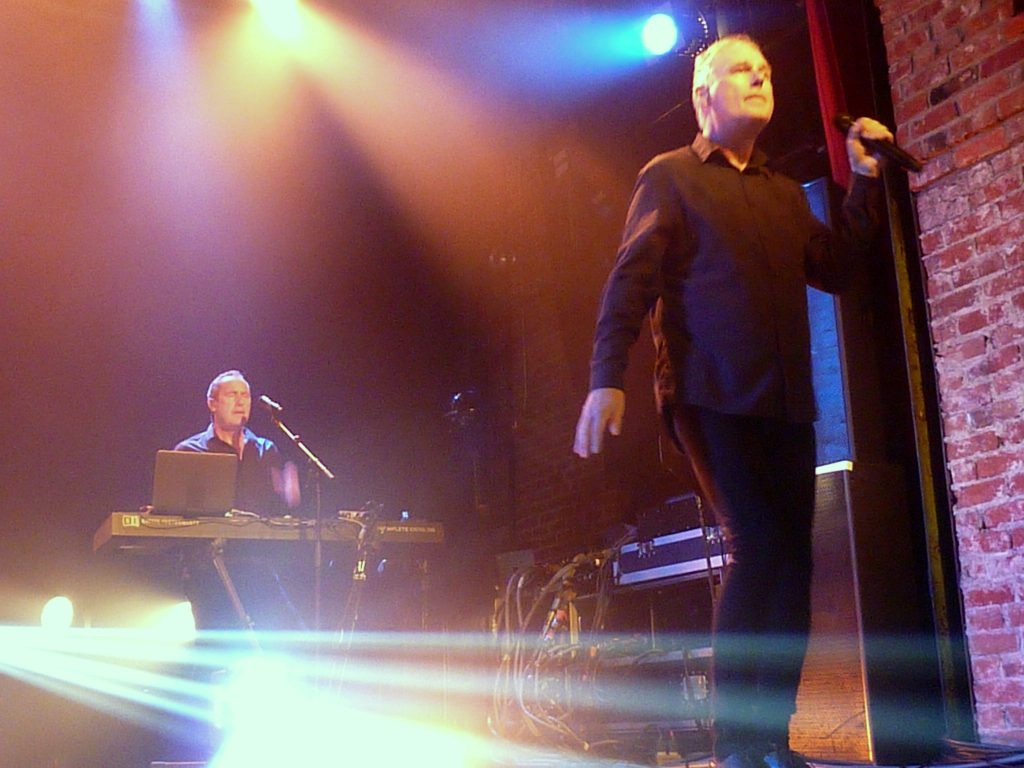 TLaC had a funny moment in the second verse where Mr. M. forgot his words. He stopped, turned to the guys and said "I forgot the words…" They kept playing, he looked out at the audience and asked if we remembered and Maria and I sang louder (as I think a few other fans did) and he caught back up near end of verse. Maria, Christine and I all talked after how we find that endearing and kind of special. 🙂 Mr. M. joked once the song was over "Ah….the dementia is setting in." And ironically, it made for a good lead in for WotMW because he said "this song is about getting old…forgetting lyrics…." ha! 😀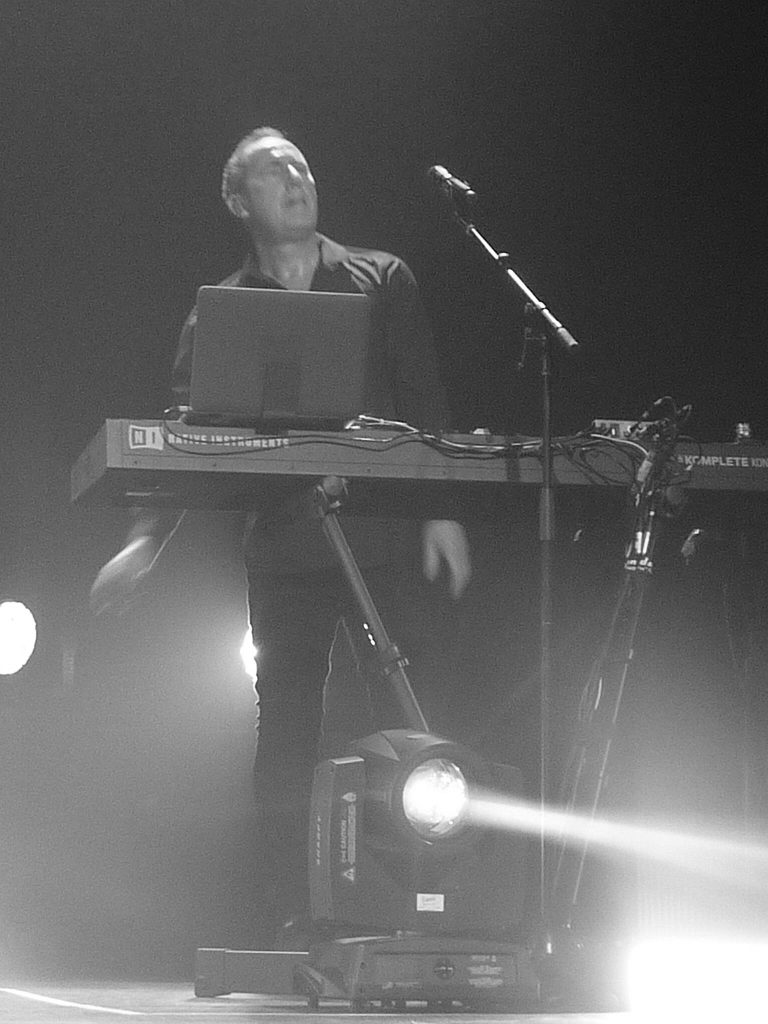 There was great crowd participation for TPoL with the Hey echo and funny enough, during Dreaming, Mr. M. went over to the guard on one end who had kind of a spiked up hair do and started gently rubbing/patting the spikes. The guard kind of looked up but man, did he do a good job of keeping to his "face forward to the crowd!" stance as he never turned around, just looked up at Mr. M.s hand and kind of grinned. 😮 😀
As in IYL, SoL found lots of cheers when Mr. C. brought out his sax and as he started playing, plus even more when Mr. M. pointed him out after the song and called him the usual "Sax God." Mr. C. grinned and I'm sure knew this was a really good crowd! Enola Gay found a bunch of people including the kid next to Christine bouncing with me and then the guys came down front for thank yous and goodbyes. The crowd erupted and kept cheering so Mr. H. waited a few extra seconds before he told the crowd "WOW, you have just been SO wonderful to PLAY to!" Mr. M. then introduced everyone and Mr. C. actually blew a little kiss out to the crowd! 😮 😀
While waiting for the guys to come out, I tried to get the OMD chant going but initially no one was joining me so I stopped…only to hear it take off maybe 30 seconds later. 😀 First time out of the 3 shows…this was for sure the best crowd despite the others being really good. When the guys came back out, they all waved to us with huge grins and Mr. M. did a little half jump/half jig like motion as the crowd kept cheering. When it came time for the fun interaction between him and Mr. H. mid Locomotion, they shook hands this time. 🙂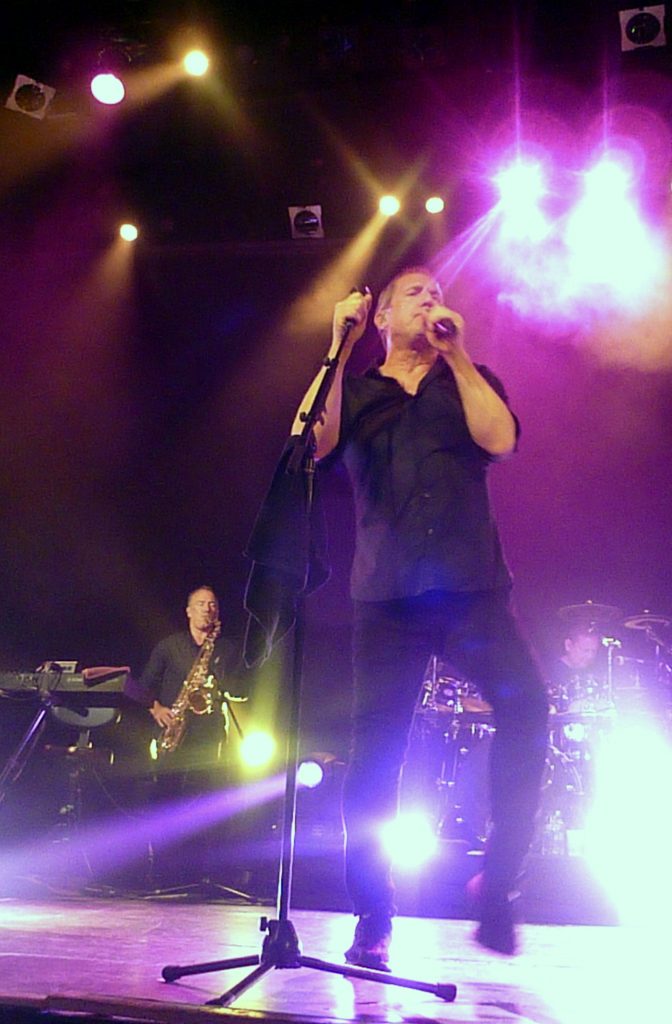 Before Mr. H. could start Secret, Mr. M. jokingly laughed saying "this next song is for the kid in the Iron Maiden T-shirt who has OBVIOUSLY been dragged here by his parents. This is a synth pop song for you." 😀 During each verse, as Mr. H. was singing, Mr. M. stayed way to the side…second verse found him leaning casually against the brick wall with his one leg bent up. Both he and Mr. H. laughed as he just hung out there a bit LOL. Of course we gave them all "3 minuets and 42 seconds" to go crazy and bounce/sing/etc to Electricity and then it was one more round of thank yous met by a lot of cheers that kept going on for a bit. The venue waited a minute before putting the lights on which made the crowd keep cheering in hopes of more but we all know it's done after Electricity. Christine, Maria and I went to the bar as they wanted something to drink and funny enough, there was even an OMD themed drink called Souvenir that Maria ordered. 😀
Highlight for tonight….well I would have to say the crowd and just having the final show of this run with Maria, Christine, and Marilyn be the best reaction of the 3 and the joy in the guys faces. 😀